Cluster Meeting - Helping a Fortune 10 to understand the impact
TROOP helped a Fortune 10 technology company to identify massive savings in cost, travel time and CO2 emissions by splitting a single location meeting into a cluster meeting. The analysis identified savings on cost of $244k (-77%), over 249 tonnes of CO2 (-78%) and over 212 work days (-71%).
What was the challenge being addressed
Travel emissions make up a large amount of carbon emissions. Many companies are signing up to reduce emissions. However, when it comes to how to reduce these emissions, they are struggling because business & meetings travel is made up of millions of decision makers.
Over 50% of all trips are related to some sort of meeting or event. However there is currently little, if any, assessment of the emissions impact a meeting or event may produce at the point of planning.
Decision making support requires having timely and accurate data. Companies are rushing to implement emissions data as part of the booking tools their travellers use. However, showing this at the point of booking is too late for many trips as the meeting location has already been arranged!
Companies are realizing the benefits of analysing a meeting at a holistic level to assess the emissions impact as well as other factors and using this data to inform where to meet, who should attend and who should join virtually.
How was the innovation applied?
A Fortune 10 technology company asked us to run an analysis of their global procurement meeting with 207 attendees. This meeting has typically operated in single locations in the past. This resulted in significant cost, time lost to travel and a big carbon footprint.
This time, they wanted to understand how cost, travel time and CO2 emissions would vary if people met in clusters. They would then join up virtually with other clusters at time zone friendly times rather than travelling into one single location.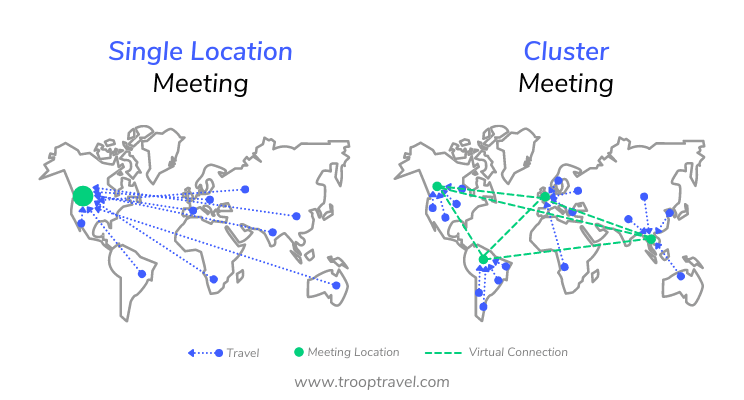 We run 5 different analyses: 1 meeting in a single location (HQ in US) and 1 meeting clustered over 4 different locations (US HQ, Bogota, Madrid and Bali).
What were the results?
The results were mind-blowing: A cluster meeting approach could achieve a 76.5% reduction in costs, 78% reduction in emissions and 71% reduction in travel time.
Read how TROOP helped Mondelez to increase productivity in meetings management.