Connecting your remote team
Ensuring our remote team feels connected with one another is critical to our team's success.
Once upon a time, employees would wake up 2 hours before work to get ready, have breakfast and head to the office. They would sit around big tables in conference rooms sharing their stories and aspirations before the meetings began. They would pass by each other's desks to ask a question or have a quick chat. Common spaces would have bulletin boards announcing important news, employee awards, restaurant discounts or team building activities.
Today, many companies have decided to switch their work environment to being fully remote. The latter has created a lot of new perks for both the business and its employees. Employers can invest their office budget to more research and development, and can hire talent regardless of their location. Remote workers have more flexibility, don't have to commute to work, can spend less money on work lunches and enjoy more time with their families at home.
The concept of remote working has re-invented the way teams work together, and numerous companies have experienced great results and peaks in productivity from it. However, a downside which has resulted from working virtually is that employees find it more difficult to connect with their team, thus affecting their motivation - but it doesn't always have to be this way.
How we help our remote team feel connected
TROOP is a fully remote company that is growing with speed. Towards the end of 2021, we expanded to 12 employees. Today, one year later, our team consists of 44 TROOPers and counting.
We believe that building strong connections is a key part of building a strong business. Keep reading below to learn some of the best practices we have implemented to make sure our team feels connected as we keep on growing.
Having dedicated social spaces
Every one of us has a life outside of work, hobbies we are pursuing and dreams we are chasing. We have created a dedicated social space in Slack, our communication tool, called #social, that serves as a free space to share what is going on in our lives. You went hiking last weekend, you adopted a baby pug, you just got engaged - we encourage our team to share these exciting stories with us because we care.
We have another channel in Slack that is used for sharing inspirational podcasts and great reads. As the saying goes... knowledge is power, and knowledge shared is power multiplied.
'Donut' sessions
Our work calendars are filled with meetings, creating a lot of engagement when discussing strategy and KPIs. However, that 'walking past a colleagues desk and sparking up a conversation' bit was still missing. So, we decided to implement Donut sessions into Slack to facilitate new connections and nurture existing relationships within the team. These consist of weekly 30-minute meetings with someone from a different department as you, to get the chance to have a conversation about literally anything. Think of them as virtual coffee dates that give room for human connection and empathy. We are big fans!
TROOP Connect
Department updates, sharing wins and best practices, group reflections, seeing everyones' warm faces…This is what TROOP Connect is all about. These consist of bi-weekly all-team meetings that encourage everyone to share what projects they have been working on and get a chance to shine. The theme for this past month has been keeping a healthy mind, encouraging everyone to share what they do to keep a good work/life balance with the chances of inspiring others to do the same.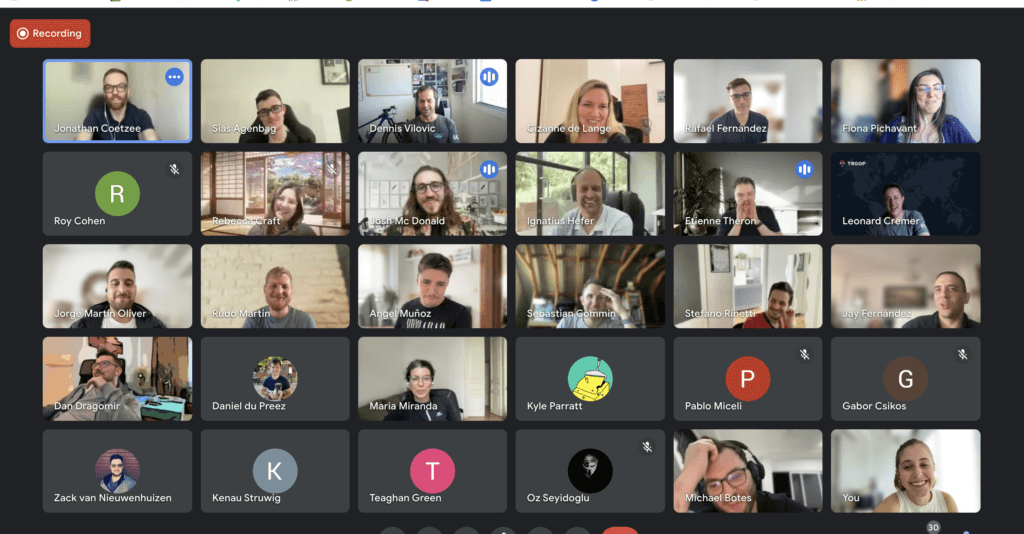 Culture handbook
Just because we are an all-remote company, doesn't mean that our company culture is non-existent. We have actually come up with our very own TROOP culture handbook to document the timeline and happenings of the company. Each new team member receives one of these to help them feel welcomed, get their bearings & understand how to successfully integrate into our existing team. For the latter, it serves as an attempt to capture all things TROOP as it helps guide everyone towards the same goal.
TROOP quiz
Once a month on a Friday afternoon, our team finds a placeholder in their calendar called 'TROOP quiz'. The questions range from new signings to what everyone has been sharing in the #social Slack channel. A winner is then announced after each trivia quiz. This initiative helps create a healthy competitive spirit and keeps everyone up to date with company news.
Cameras on
Nowadays it's simpler to connect and work from anywhere. Some of us are working remotely from an exotic island or a beautiful nature resort, while the rest of us are working from home with our families. Nonetheless, developing relationships has become more difficult. Even though it's great to come to work in your pyjamas and soft slippers, it may be difficult to effectively network and advance in your career. TROOP believes in nurturing human relationships with one another, and has created a culture of 'keeping our cameras on' during meetings to facilitate face-to-face interactions.
Weekly knowledge sessions
Our departments have weekly meetings to discuss growth opportunities and to spread knowledge with one another. We have seen that this is a very effective way to get everyone to share their workload and raise any questions.
Casual encounters and yearly in-person meeting
Given that the majority of our TROOPers are spread around Spain and South Africa, externally organized team encounters are exceedingly common. Coffee breaks, happy hour beers or adventurous hikes on the weekends are some examples of ways our team comes together.
Last year, we flew our entire team to South Africa for an all team meeting. After having worked online endless hours together on projects, the idea of meeting your colleagues in-person is very exciting - even more so if it's at a safari game lodge! (Hint: our meeting planning software helped us find the right location for the retreat).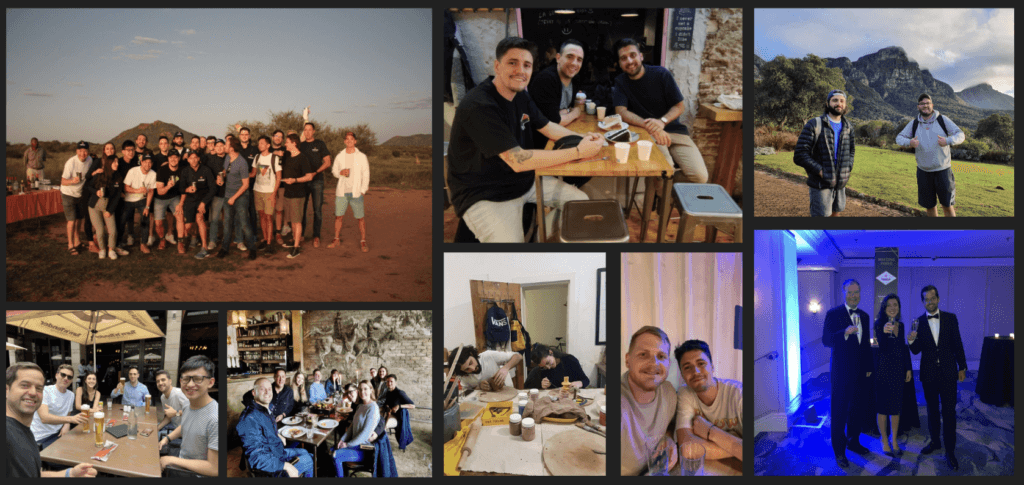 Our second annual team meeting is right around the corner so make sure you stay tuned to find out more about our next destination.
Working remotely doesn't mean being alone
It's important that companies create an environment where leadership and employees can stay connected while working from home.
While team-building is only one part of building a strong company culture, a few intentional and thoughtful gestures can go a long way toward making everyone feel like a part of the team—no matter where they are.
Connect with TROOP today and discover how you could fit into our team.